Building a fortune needs some money. That's obvious. And I wrote about that topic in "Money to invest – Where do I get it from!" I wrote about where you can save money, so you have some to invest. Today, I want to give you an example, where you waste your money.
In my today's blog post, I want to leave the path I normally walk and go a bit offsite. Although it's not really far away from the topics, I'm usually talking about. Normally, I write about how to invest. Today, I write about not to waste your money on something that's unnecessary.
Money makes the world go round. And although there are many other things that are more important than money, like family, health etc, making money is a significant part of our life. And by the way, I love it. I have ten children, a loving wife, I'm in good health and make money on the stock market – I'm a lucky guy. There's nothing wrong in making money. I run my blog with advertising. Why not? I'm happy about some advertising on pages I visit because from time to time I find great new stuff. So, I run advertisings and I also have affiliate links which bring me money, too. I'm a businessman. I try to make money wherever there's an opportunity I like.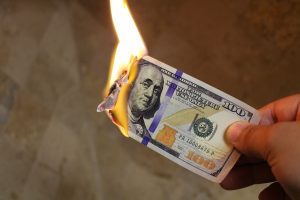 If you run a blog, you are able to make money with guest blogging. I'm open for this and got some requests, but I have to admit, I'm very picky.  Preferably it has something to do with stock investing, but it surely should have something to do with investing, money management, personal finance etc. And it has to be a product or website or whatever that I'm convinced it will bring value to my readers.
irs-ein-tax-id.com
Recently, I got an email about a request to collaborate with a website called irs-ein-tax-id.com (I'm not linking it!!!). I didn't know that site, so I went to check it out. I found out that it is the website of a company called Govt Assist, LLC. They act as a "Third Party Designee" to help people obtain Federal Tax ID Numbers.
Well, at first this sounded good, but I have no special knowledge about the US Tax ID numbers – I'm mostly living in Germany. I went further checking the site. The first thing I read is that I should select my entity type. Well, that's okay, but I was searching for the menu to get to know more about the company and the service. Finally, I found it. It was at the very end of the site. This I really don't like. It seems like hiding something. It seems like they want you to go through the process without knowing too much about the company and its service.
The fee
Here, at the bottom of the site, I found what I'd been looking for. I wanted to know how much they charge for the service they provide. For a "small" fee of $185, Govt Assist helps you to get your Tax ID.  This bewildered me. $185 just for helping me getting a Tax ID. I asked myself if it is that difficult to get that number. If it is, $185 could be a fair price. And paying for a service isn't that bad. If the service is valuable and the price is fair. So, I checked the background of the website and searched for some experience people had with that service. Here's what I found out.
Experience with irs-ein-tax-id.com
I found an article where the Author warns people about fake IRS sites. Those sites may look like the official one but they aren't. Well, that's nothing new. That's, unfortunately, the daily danger we have to face using the internet. He's also talking about sites that charge you for the service to send the IRS form to the IRS. But what was the most interesting information I read, was that filling out the IRS form on the official site of the IRS is FREE (I linked to the official site). That means, on both sites you fill out the IRS application form, but one site charges you $185, the other site NOTHING. And be cautious! You never know if the non-official site is a scam and only wants to steal your identity.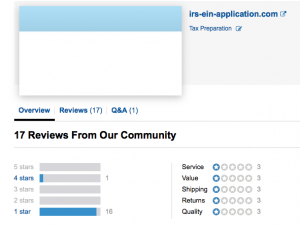 On sitejabber, I found out that the rating for irs-ein-tax-id.com is really bad. The same on trust pilot. Here are some examples of what people say:
"This company is tricking people who think this is an IRS website to unknowingly pay for something that is free on the IRS website."
"THIS IS A FRAUD. THEY POSE AS THE IRS AND TAKE MONEY FOR A SERVICE THAT IS FREE. AT THE TOP OF THERE WEBSITE THEY POSE AS IF THEY ARE THE IRS. THIS IS A TOTAL SCAM AND I HOPE THAT THEY ARE SHUT DOWN IMMEDIATELY."
"I found these other reviews! I was able to cancel my debit card before the $257 service fee went through… multiple emails, multiple calls. No response. Just get it for free…save yourself the trouble!"
"Paid $147 and never heard from anyone again."
"There is absolutely NO benefit to using this company to get your EIN. It does not make it easier (and the process on the IRS site could not be easier anyway)."
Don't waste your money (and be careful about your data)
You see, there is absolutely no need to use a service for something you really could do easily on your own. Save your money so you have some to invest. Invest in your future and not in a service you really don't need. That doesn't mean to use a service never again. But be picky like me. Think about when you really need help and when not. They're many services that are very valuable. But they're more that aren't.
irs-ein-tax-id.com offered me $75 for each article I would write about them and publish on my website. Well, I wrote back that I normally charge $200, but I would give them a special discount of $50 because they help people with tax. Sebastien never answered on that great offer. I think he missed a great opportunity. What do you think? I will charge him $185 for this article. After all, I wrote a blog post about his company. Or what?
Get value
Well, I think what you read here wasn't what Sebastien thought about. But it is what I think about sites like his. And my blog should bring you some value. I don't know if it does. But I do my very best. I give you my ideas, my knowledge, and experience for free. And I recommend you books and sites and services, I think could be valuable and helpful to some of you. I am affiliated with some service, to others I'm not. I believe that's okay. Why not helping good services to get new clients and participate in it. You don't need to click on any link I recommend. But I would never recommend anything I'm not convinced about.