The financial markets are places of tremendous activities. Everyday billions of dollars are changing from one hand to another, always hoping to get a decent return. But for an investor doing nothing most of the time and just wait promises the best returns.
In my last weeks blog post, I talked about an essential investors virtue: discipline. Being disciplined and sticking to your strategy is absolutely important, if you want to succeed on the stock market. As an investor you're always looking for great or outstanding companies at a discount. Buying a dollar for 50 cents not only promises a satisfying return, but also minimizes the risk of losing your money. The "problem" for many people who want invest in the stock market is that you can't always find such reasonable investments. With this problem goes a bigger one: they aren't able to wait until the next fat pitch comes across. And so they buy whatever comes across.
---
The key is to wait. Sometimes the hardest thing to do is to do nothing. (David Tepper)
It's waiting that helps you as an investor, and a lot of people just can't stand to wait. (Charlie Munger)
---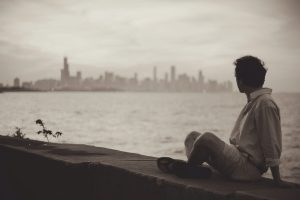 Being patient and waiting for the next great opportunity is another investors virtue which helps you to be successful in building a fortune. Most of their times, investors just do nothing. Unlike many market participants who always have to be active. These traders check out their portfolios many times a day, watching every up and down, hoping that there will be more ups than downs. They are always looking for the next stock to invest in and they believe these stocks come across many times a day or at least many times a week.
The Myth of Activity
I'm sure you know the quote "Too much trend-chasing leads to the poorhouse". This isn't just a saying. For the most average private investor it's the truth. The reasons for that are numerous. For example, every purchase and every sale costs you a fee. The more you buy and sell the more fees you have to pay. And that fees reduce your return and therefore your performance. Another example is the belief that the active trader is able to identify the trend. And what's more important, the end of that trend and the beginning of the next one. That means nothing more than that this trader is able to find the highs and lows of the market and to buy and sell near them. I think, this is nearly impossible, but it is certainly a bet. A bet about the next move of the market.
Betting isn't what an investor is doing. An investor doesn't put his money in an asset like a stock, because he hopes that someone is willing to pay him more for that stock the next day. An investor puts his money into a company, because of the value this company represents and the high probability that this value will rise.
Great opportunities are rare
Investors are searching for value and they try to buy that value at a bargain. As I said before, they try to buy a dollar for 50 cents. Finding such opportunities is nothing but easy and it's not always the best strategy. Some companies may look cheap and interesting, but rather are only cheap and a bad investment. That's why many investors, like Warren Buffett and Charlie Munger, widened their strategy. They are willing to pay a fair price for an outstanding company.
Warren Buffett explains it that way: "It's far better to buy a wonderful company at a fair price than a fair company at a wonderful price."
I agree with Buffett. Although the price is still an important factor regarding a purchase of a company, the quality is more important. That's what Munger taught Buffett when they start to invest together. (But never forget: Even an outstanding company could be a bad investment, if the price you pay is too high.)
I like to buy good companies at a fair price, but I really love to buy them at a bargain. Both opportunities are really rare and I won't find them every week or month.
The Power of doing nothing
Because of this I buy really seldom, especially in times like these. It may seem pretty boring, but to wait and to do nothing is often the best what you can do. I like to read through social media and I always find these guys who constantly ask, if they should buy company X or Y now or if they should wait for the next set back. These guys also constantly ask, if they should sell now because of a set back or a little increase.  They are so insecure of their positions and decisions that they always think they have to do something with their portfolio.
This insecurity is based on the fact that they don't have a reasonable strategy regarding their investments. They never have thought about the right time to buy and sell. And they never have thought about the right company and the right price. These guys buy, because they hope someone will pay them more for the stock the next day.
What these guys are doing – I said it before – isn't investing and it will cost them a lot of money. An investor thinks more about buying than selling, but he knows that he can't find everyday what he wants. He has to wait for the next great opportunity. He has to wait for that one company that is outstanding and fairly priced. And when that moment comes along and such an opportunity knocks on his door, he buys heavily and then starts doing nothing again. He waits and watches his purchase grow in value. And he watches his fortune grow.
Wait
Two things are important for the success for what I described above. The first thing is the quality of the company and the price you pay. The second thing is to have the discipline to wait. If you buy mediocre or bad companies and pay too much, you won't succeed over the long run. If you can't wait, your purchase doesn't have the chance to grow in value and so the power of doing nothing has no time to unfold.
Jeremy Grantham says: "Although value is a weak force in any single year, it becomes a monster over several years."
Many market participants aren't willing to wait so long. They don't have the discipline for being patient. The reason is that they want to see some success immediately. They don't trust their decision about an investment and want to check it everyday in the hope of being able to correct it. But if you buy the right companies at the right price, you don't need to correct your decision the next day or week. You only need to watch the power of doing nothing unfolding.

Doing nothing doesn't mean "doing nothing"
Most of the time, the successful investor does nothing which means he doesn't buy or sell any company. Doing nothing means, as we now know, waiting for the next great opportunity as long as it needs. During this waiting period the successful investor uses his time to search for those opportunities and research the companies that may be of interest. He takes his time with a decision, because his success depends on this decision. And the better it is, the higher the probability of a great return.  It is important for him that the company meets all the criteria he sets for being a purchase. And only then he buys. And only then is he sure enough that his purchase will be a success and he can wait again and watch the power of doing nothing unfolding.