Not everybody is convinced that investing on your own by choosing individual stocks could be successful for ordinary people. I'm of a different opinion. Today, I tell you why!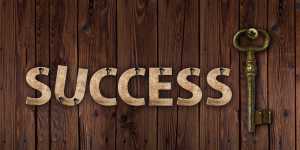 When you're young and at the beginning of your investment career, you're enthusiastic and maybe driven by the wish to become rich for whatever reason. You start to read and learn about investing, trading, asset classes etc. and you ask yourself, if you could be a successful investor. You heard about these guys who made the fast money and your emotions start running wild. But you're a sensible person and you know about the myths of fast money. So you decide to start investing and build your fortune over time. You're young and time is on your side, you think. So, patience is what you need, not greed.
Someday you start buying your first stocks, because you like the stock market and being an owner of a company (even a small part owner) is what you ever wanted. But as a stock picker, you have a hard time. You're just an ordinary investor, with more or less little money. You're searching for companies to invest your own money in and maybe you're doing really fine. You have bought good companies with a decent return for your portfolio and you have some losses, because your pick wasn't as good as expected. You're convinced that you lost because of your little experience and your successes seem to prove you right. But other people think it's different.
---
"You don't need to be an expert in order to achieve satisfactory investment returns." (Warren Buffett)
"Everyone has the brainpower to follow the stock market. If you made it through fifth-grade math, you can do it." (Peter Lynch)
---
The other people
If there were not the other people. The ones who say you're just an ordinary person and not one of the great investors who made billions. They say, you shouldn't try to compare with them or try to do it like them. You will fail, they say. Better put your money in ETFs and let the market do the rest. Better doing average than underperform. And you will underperform when you try to pick stocks. Just look at all those professional fund managers who underperform. When they can't beat the market, you also won't do it. So, be satisfied just doing average and invest in ETFs.
You know this talking all too good?
In my today's post I try to comfort you. Today, I want to introduce you two people. A woman and a man who are like you and me. Nothing special. Just a janitor and gas station attendant and an accountant. But I'm convinced, everybody should know about them. So, when you haven't heard about them, here are their stories. And they are great stories. I love them. They are worth telling over and over again. And they are a must for every ordinary private investor. So, if you heard about them, share this article that everyone hears about them. If you didn't heard about them, read on, be happy and share this article, too.
The accountant
Our accountant is called Anne Scheiber. Anne was born in 1893 in New York and died 1995 at the age of 101. Anne was raised by her mother, after her father died. Already as a teen, she began to work and earn some money. Later, Anne graduated from college and law school and started to work as an accountant at the tax office in the US State of Tennessee. She never earned much money. In the 1930s she earned only about $3,000 a year. In 1944, Anne retired from the IRS at the age of 51.
When she retired, Anne has nothing more than $5,000 in savings and around $3,000 of annual pension. Because of having burned her fingers following the advice of financial brokers during the 1930s, she resolved to never rely on anyone again for her own financial future. So she started to make her own investment decisions. And these decisions weren't so bad.
Anne began to look for companies on her own. She went through annual reports, looking for companies who promise to continue to make profit and pay decent dividends. Anne invested in high quality companies and holds them for a very long time. She even held her shares when the markets decreased. By just selling only a few shares, she avoided to pay significant tax on her capital gains. With this strategy, Anne managed to successfully accumulate a net worth of $22 million with about $750,000 on dividends a year by the end of her life. Starting with only $5,000 and $3,000 of pension a year, she became very rich. Despite her huge amount of money, Anne lived a very frugal life, stayed in her New Yorker apartment and took food from shareholders meetings to consume it over the next days.
The gas station attendant and janitor
Ronald Read was also just an ordinary man. He lives in Vermont and spends his modest life as a gas station attendant and janitor. He was a very frugal man and he only spends money if he had to. People, who know him, say, he loves his privacy.
Ronald Read was the first person in his family to graduate high school. He wore old flannel shirts and spend his time foraging for fallen branches for his home stove. He looked so poor that he once tried to pay for his regular breakfast of an English muffin with peanut butter at Brattleboro Memorial Hospital cafe just to find someone else had picked up the bill for him. When he drove to town, he parked his used Toyota a bit away where parking was free.
Ronald died 2014 at the age of 92 and what nobody knows, not even his family, was that he had built up a fortune of $8,000,000. Ronald didn't earn a six figure income, but he made himself a millionaire.
How did he do this?
Ronald started his successful investment life at the age of 37 by buying shares of Pacific Gas & Electric worth $2,380 (around $20,000 in today's purchasing power.  Over the following 55 years he built up his fortune with patience and persistence. His smart investing strategy was "buy and hold". He even didn't sell his stocks after a 50% decrease. He just held them, because he only picked stocks from companies he understood and had experience with. So even when the price has fallen, he was convinced about the companies. Ronald regularly accumulated equity in some of the most successful businesses in the world, across a wide range of industries. He bought companies that paid him a dividend. He understood the danger of activity, the advantage of deferred taxes, and the wealth-destroying nature of high fees.
Ronald made his enormous fortune following this simple, but successful strategy, and, true to his name, regularly reading The Wall Street Journal, where he could learn about companies far and wide and keep up with happenings in the business world.
If they can do it, you can do it, too
I love such stories, because they tell us an important message. These stories show that you don't have to be a Warren Buffett or Seth Klarman or any other fund manager to build up a fortune. You don't even have to be graduated from any university. The only thing you need is knowledge, persistence and patience. You have to do your homework and rely on yourself.
Don't let anyone tell you, you aren't good enough to choose your shares of companies on your own. Don't believe, if they try to tell you, no-one can make a fortune by relying on himself. Anne Scheiber and Ronald Read are only two examples. And you may be the next one. Just follow some simple principles, stick to them and live below your means, so you have money to invest.
---
Join my NEW FREE Online Course "The Secrets of Intelligent Investing" 
and learn to invest on yourself just like Anne Scheiber and Ronald Read!

---