Many people are willing to save money and invest it. But they all too often believe that they haven't enough money to do it and therefore is not worth it. But that's not true. Here's why!
In February I wrote in my article "Should I invest in stocks with little money?" that you should and I explained, why I think so. I'm very convinced about starting with investing even with a small amount of money. Today, I want to add another point to my view – percentage.
---
"Investors who can earn an 8 percent annualized return will multiply their wealth tenfold over the course of thirty years." (William Bernstein)
---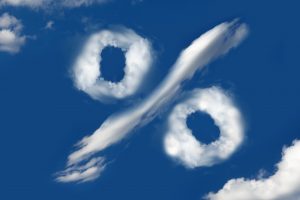 I think the answer if it is worth to invest with little money is a matter of perspective. Many people, young and old, think in terms of the amount of money they have for investing and they will get as a return. It's kind of natural, but it isn't very helpful. If you have $100 for buying a share and it will rise to $105 within the next day, in terms of the amount of money you receive, you only get $5. Such not that much, you may think, but maybe you're wrong.
It's a matter of perspective
As you may already know, I started investing in 1990 at the age of 18. I was still in high school preparing for my exams. Although I was working in the afternoon at a groceries store to get some money, I hadn't much for starting my investments. I took 200DM, which is around 102€, and bought my first shares. Back then my decision was more based on gut feelings than on reasonable research, but I thought I couldn't do much wrong buying a blue chip. So I bought shares of BASF. The stock traded between 4.70€ and 8.15€ that year. I bought around 5€ so I got 10 shares. At the end of the following year, the stock traded at around 5.60€ which means I made 60 cents on every share, a total of 6 €.
Not that much, I know. At least, after more than one year, with I return I was able to buy me a ticket for a movie show. Was it worth it? After all, I earned more money working in the groceries store. And in the meantime, I had to suffer some losses which were very hard for me as a young man with no experience.
Think in terms of percentage
Well, 6€ don't seem to be very much, but when you look at the percentage instead of the total amount, the picture may look different. Starting with a capital of 100€, my return was 6% in the first year. Interest on savings account in Germany were less than 3% that year. So, I made twice the return I would have made, letting my money in my savings account. I think that's not bad at all. Especially for a newbie like me, although I had read a lot about investing. After six years, I had tripled my money, after nine years it had been quintupled. Or speaking in terms of percentage, my shares increased 500%.
You see, it's not a matter of the total amount of money you have to invest. It's about the percentage you get in return. It doesn't matter if you invest $100 or $100,000. The return in percentage will be the same. So, if you made it with little money, you can also make it with more. The mechanism is always the same. When you start investing, always think in terms of percentage. Don't look at the total amount. Making $6 or $10 return isn't as motivating as making 6% or 10%. Maybe more.
---
Disclosure: I hold shares of BASF. This is no advice to buy or sell BASF shares or any other product related to them.