In his latest memo, Howard Marks is talking about investing without people. The memo is quite interesting and I recommend it to every investor. It covers three ways of investing without people. To the first one I want to dedicate some attention in my today's blog post – ETFs and passive investing.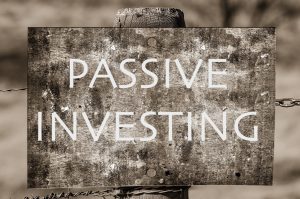 Passive investing, in particular ETFs are very popular these days and they become more popular each day. The average private investors love this way of investing their money, because it's cheap, it's easy and it promises the decent returns. I, myself, am a private investor who invests actively in the market. I'm doing this since I started investing in 1990 at the age of 18. I had a lot of discussions, where – mostly young – guys trying to tell me, that it's a waste of time. "Efficient Market Hypothesis" says that no-one can beat the market. And if the professional investors can't, I certainly can't do it.
Well, I'm not believing in this hypothesis. Experience shows that there are some investors who can beat the market. I  believe, it depends on your strategy and on the companies you're investing in. Certainly it's obvious that collectively all investors have to do average. But this discovery doesn't say anything. The average age here in Germany is 46 years, but that doesn't mean that we have no people at the age of 100 or 1 month. It's just a statistical figure. Nothing more and nothing less.
Doing average
Many private investors, especially here in Germany, believe that they aren't good enough and able to do more than average. We are a nation of people who are satisfied with average and below. If you think, you are only average, ETF investing may be the right way for you, because, as Marks writes in his memo, "you can't fail to keep up with the index". That's why index investing is a "can't lose strategy. But it's also "a 'can't win' strategy, since you also can't beat the index".
Well, this is obvious, too, and for those you want to invest with little fees and little work, it's maybe the right way to invest. But everyone who invests in ETFs should be aware of some interesting facts Howard Marks talking about in his memo. He starts with what he called "actively designed, rules-based vehicles". Nowadays, ETFs are very differently. You can find ETFs that focus on growth, on high quality, on momentum, on medical marijuana etc. Because of this fact, Howard Marks states that "each deviation from the broad indices introduces definitional issues and non-passive, discretionary decisions." That means that you have often an active part in passive investing.
Is passive investing wise?
The most interesting thing for investors are the following questions Howard Marks asks and tries to answer. He starts asking if passive investing is wise? And that's a legitimate question, because many average investors who belief the "Efficient Market Hypothesis" believe that it is wise. Howard Marks answers this question this way:
Although passive investing makes no "active decisions whether particular stocks should be included in a portfolio and (…) how they should be weighted", it's the "active investors (…) who set the prices that index investors pay for stocks and bonds, and thus establish the market capitalization that determine the index weightings of securities that index funds emulate." Passive investing depends on the believe that "the efforts of active investors cause assets to be fairly priced." "In short (…) active investors do the heavy lifting of security analysis and pricing, and passive investors freeload by holding portfolios determined entirely by active investors' decisions". But "if active investors are so devoid of insight, does it really make sense for passive investors to follow their dictates?"
What are the implications of passive investing for active investing?
The question Howard Marks asks is: "What happens when the majority of equity investment comes to be managed passively?" And he answers it this way: "Then prices will be freer to diverge from "fair," and bargains (and over-pricings) should become more commonplace." In the end, active investing will benefit from an increase in passive investing.
Does passive and index investing distort stock prices?
"With passive investing on the rise, more capital will flow into index constituents than into stocks (…) that aren't in indices". Based on that, the popularity of stocks in index funds will increase. That popularity "determines the relativ prices of stocks in the short run." "The large positions occupied by the top recent performers – with their swollen market caps – mean that as ETFs attract capital, they have to buy large amounts of these stocks, further fueling their rise. Thus, in the current up-cycle, over-weighted, liquid, large-cap stocks have benefitted from forced buying on the part of passive vehicles, which don't have the option to refrain from buying a stock just because its overpriced."
The big question is, where will index funds and ETFs (…) find buyers for their over-weighted highly appreciated holdings if they have to sell in crunch"? Maybe "the popularity that fueled the growth of ETFs in good times working to their disadvantage in bad times."
What do we learn from Howard Marks explanations
Well, I don't know what you do learn from him, but I know what I do. First, if you are satisfied with average returns and you don't want to do any work regarding your decision what stocks should be bought, ETFs are the right thing for you. With a little fee, you participate from the decisions made by active investors.
Second, based on the believe that the most active investors can't beat the market and underperform, which means that their buying decisions aren't the best ones, it isn't maybe the best choice to invest in something that is based on that decisions, such like ETFs.
Third, as an investor, I'm always searching for companies that are underpriced relative to their intrinsic value. What I really don't like to buy are expensive companies in the hope they get more expensive. If I would do the latter, I would speculate on the psychology of the market participants, and I wouldn't invest in valuable companies. When ETFs need to overweight everyones darling which are expensive, they don't invest in the securities I prefer.
Fourth, if there is no real advantage of passive investing regarding my return, why should I invest in it. I can't see any advantage in investing with average returns in a fund which buying decisions depends on the decision of underperforming active investors. I'm not willing to pay little fee for getting little results.
Enjoy investing
Fifth, although many professional investors don't beat the market, doesn't mean I can (and you can). I wrote in my blog post "Why do most fund managers underperfom" about the reasons for that. And in my post "The advantage of small Investors" I'm talking about the reasons why the average investor can be better than average.
So, if you enjoy investing and you want to do it on your own and you are willing to do your homework, invest for yourself. Active investing doesn't mean buying and selling all of the time. It means, making your buying decisions on your own, based on the research you've done. It means to be patient and to say no most of the time and to wait until the right investment comes across.
---
I recommend to read the hole memo of Howard Marks. You can learn a lot and it's always interesting. Just go to Oaktree Capital.