Discipline is an investors virtue which is absolutely indispensable if you want to be successful on the financial market. Although easy said, being disciplined facing the market emotions is really tough.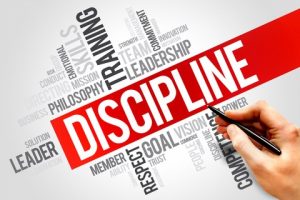 In my today's post, I want to talk about – who would have thought – DISCIPLINE. Discipline is one of the investors virtues I think every successful investor has to make his or her own. You can learn a lot about different asset classes and investment opportunities. You can be an expert in momentum, candle sticks, Bollinger Bands, Alpha and every financial theory, but if you have no discipline, you never will be really successful with your investments.
Perhaps, discipline is one of the most important investors virtues. Most know about it, but many lack discipline. To know about something is just one side of the medal. Realizing what you know is the other side. And it's the side which all too often fails. Why? Because it's so extraordinary tough to be disciplined. Doing what we know is right needs so much work and effort. It's incredible!
Every year millions of people fail
Every year millions of people fail because they simply don't have the discipline necessary doing what they want to do or what they believe is right. Think about the New Year's Eve. Every year hundreds of thousands of people have great intents of making something better as they did the previous years.
Maybe they want to quit smoking or to drink less alcohol. Some want to do more sports or to be more kind to the ones they love. The next day or two, they start putting their intents into action. They went to the gym and start practicing. But after a few days, they reduce their efforts. Instead of going to the gym twice or three times a week, they only work out once a week. Every time they want to go to the gym, it gets harder to motivate themselves. And after some weeks they give up and find a lot of good reasons why this is okay.
---
Discipline is remembering what you want. (David Campbell)
The essence of discipline is that there are no exceptions. (Jack Schwager)
---
Did you have made such intents yourself already?
Most of our good intentions end up on the dump of failed attempts, because it is very difficult to abandon our habits. Many people rather renounce a positive transformation than change their old habits.
Why? Well, changes are exhausting. They require a great deal of discipline and perseverance. Habits cannot be changed by comfortably sitting in the chair. You have to work hard on it every day. And that's the problem. We work hard on so many things every day that we have to decide which ones to focus on. We're facing so many issues every day that we cannot focus on everything. So we need to prioritize and all too often we decide ourselves against the things that seem to be the hardest.
To be honest, on the one hand that's okay. We can't have the cake and eat it. We have to decide what's really important and where we put our energy on. That means to eliminate those things which are useless for us or didn't have any meaning for our life.
But on the other hand, when we have made our decision about what is important, it could be worse not to have the discipline to put it into action. Especially when things get tough.
What's up with the discipline?
It's easier to be disciplined when we focus on the things we love and think are important for us. And it's easier when those things are limited. But even then, we can lose discipline. I myself love to write (and to invest in stocks). But when I'm writing, I all too often lose focus on the subject I'm writing about. I catch myself seeing thoughts wander off. Sometimes it's really difficult to focus my thoughts on the text I want to write.
So, focus on something that I don't love to do or that is really hard to practice is nearly impossible. That's why I try to eliminate everything unimportant. Doing so, I have all my energy for the things I love. Like investing.
Discipline is essential to be successful on the stock market
I love investing in the stock market. And like loving a woman or a man, it goes with ups and downs. A lot of emotions are involved in the actions on the stock market. The badest are greed and fear. Many are insecure about what to do in certain situations. Should they buy more when the stock has lost 20 or more percent or should they sell to limit their losses? Should they buy a stock because it reaches new heights since many weeks and month or should they wait until the stock sets back?
Making decisions when investing in the stock market is a really tough thing especially for the average private investor who puts his hard earned money into it. That's why discipline is so absolutely important. Because discipline protects you against failures based on emotional decision.
My strategy helps me
In my blog post "How to control your emotions" I talk about the power of emotions and how to deal with them. Controlling your emotions has a lot to do with discipline, because you need a lot of it to practice what I'm talking about.
What helps me to practice all the things – and more – is the strategy I'm following. I have a plan and I stick to this plan whatever comes. I made this plan in a quiet moment when the market was closed so I had time and piece to think about all the things I read and learned by experience. Based on all the knowledge I acquired, I wrote down this strategy I'm following in my investment life.
I wrote down, how I want to react in different market situations, e.g. when the market gets hot or when we have a decent set back. You will also find on this paper how I want to react in a market crash. I wrote down what kind of company I want to invest in and how the figures in the financial statement should look like. I made a decision about when to buy a stock and the the time I will sell it again.
Write your strategy down
The advantage of this written strategy is that I don't need to think about my action when the market roars. I don't have to react on the daily emotions of the market. I have my strategy and stick to it. The only thing I need to have is the discipline to do this – to stick to the principles I wrote down for myself. And that's quite easy. I only have to read how I should act and react, what and when I should buy and sell. And when emotions start to running me wild, I just take a look on my strategy paper. It's much easier to be disciplined and following a written plan than reacting on the roaring market and decide spontaneously what to do in the next moment.
Does this mean I never change my strategy? Oh no! That would be stupid. Nobody's perfect and I'm more than far away of it. I made a lot of mistakes during my investment career and I still make mistakes today even if they have become less today. If I make a mistake or think something could be wrong, I start rethinking my strategy. But I don't make it when the market's open. I only make it when it is closed. I shut down the news and everything that could disturb my thinking and rewrite my strategy wherever it is necessary.
There is no such thing like success without discipline
When I'm ready, I follow my "new" strategy. I only need the discipline to do exactly what's on my strategy paper. And that's not difficult, because I trust myself and the decision I made in a quiet moment. And I know, when I skip the discipline and stop following the strategy, I will lose.
I'm just a human being – who would have thought that  – and at the beginning of my investment career I all too often skip the plan I had. In the most cases this decision costs me money. More money than I win with it. But when I kept disciplined and followed my rules, I succeeded and get decent returns.
So, make yourself a strategy in a quiet moment, write it down and have the discipline to follow it. Have the discipline to stick to it even when it gets really tough. Trust yourself and the decision you made in quiet times. It will be hard, no question, but it's essentiell for your long term success.
---
If you want to learn more about investors virtues, don't hesitate to join my course about "The Secret of Knowledge" at Bridge2Fortune® Academy!
We're just celebrating our first successful year of the Bridge2Fortune® Academy! That's why you get a 50% DISCOUNT when you use the code ONEYEARSPECIAL !