Periodically, I run through my portfolio and watch list keeping the figures up to date and thinking about changes that may have occurred during the last month. Recently, I took a deeper look at Dialog Semiconductor.
Being an investor, even a private one, requires some work from time to time. As you know from my other articles, I'm absolutely no friend of making investment decisions based on a gut feeling, a hint or something like that. These things may lead you to some company which is worth a closer look. But they never should be the only reasons for a purchase. So, if you want to have a chance to be successful over the long run, you not only have to invest money, but also some time and effort.
One of the advantages of being an investor is that you don't have to be active all the time. You won't find an investing opportunity every day or week. So you will have enough time to search, research and think about an investment. You also have enough time to look through your portfolio and watch list. I really enjoy this. As some of you may know, I also day traded once, but it was really hectic and stressful. I hated it and still do. I think, being an investor is much better for your health (what a connection).
About Dialog Semiconductor
Dialog Semiconductor is on my watch list for some time now. It's not one of the companies that I absolutely must have, but it could be worth a buy if the price is right. I'm not always up to date with my research regarding companies that aren't a must have. That was the case with Dialog, too. I haven't even read the actual 10-K or some of the latest news. So, it was time to catch up my work, especially because Dialog would release its latest quarterly statement (Q-1) – which was last week.
Dialog is a provider of highly integrated, innovative semiconductor solutions for power management, audio and short-range wireless communications. These electrical systems or chips are used primarily in the multimedia and radio field in portable, wireless lighting, display and automotive applications.The company also provides years of expertise in integrated circuit development for mobile applications such as smartphones, tablets, gaming applications etc.. Dialog operates a fabless business model, but maintains its own test and physical laboratories.
The problem of Dialog Semiconductor
It's a not secret – the biggest problem of Dialog is its dependence on Apple. Dialog is the exclusive designer of power management integrated circuits (PMICs) for the Apple iPhone, iPad, and Watch, making up more than 70% of Dialog's 2016 sales. This is problematic in two ways: First, Dialogs success much depends on the success of Apple's devices. Second, and this was the biggest problem lately, many analysts suggested that Apple would be designing its graphics chips in-house by 2020 and therefore replace Dialog's PMIC designs with its own. It was reported that Apple had established its own PMIC design centres in Munich and California. Many suggest that in-house design may be part of a general strategic shift for Dialog's main client.
Besides that, the chip industry is very cyclical and after years of booming, the party seems to end. I'm not a party guy. It doesn't matter for my investment decisions if a party starts or ends. I even don't think about this, because I'm not able to predict it. What really matters are the figures and if the problems Dialog's facing could be solved or not. And the price, of course.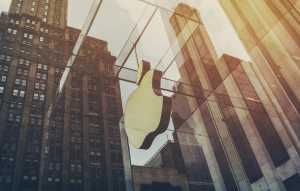 Could Dialog solve its problems?
Well, to say it clear, nobody really knows. We can't predict the future. We can only make suggestions and hope that happens what we suggest. There will always be the possibility of being wrong. And it's one of our task to protect ourselves against this risk of failure. There are some things you can do to protect your investments against this risk. I talk about this in my other blog posts and also in my FREE course. On two of them I want to have a look today: the figures of the financial statement and the price. Both are tangible.
What I like about Dialogs financial statement
To get a notion about a company, its health and its ability to get through hard times, I take a look at the figures of at least the last 10 years. The figures have to meet my criteria of a good or outstanding company and they should be constant. In a cyclical industry the latter is a problem. So, if constancy is missing, the figures have to be great so that the company could compensate the ups and downs.
I have Dialog on my watch list, because I like its figures. It has a gross profit of over 45% and a net profit of over 10%, which is okay, although I like it over 20%. SG&A are around 23% which is, in my eyes, great. Dialogs equity ratio is 85% and therefore way above 50%, which is a must. Current ratio is 3.8 and D/E ratio is 0.16. Both is what I like. ROI is over 17% which is above my limit.
One little problem
There is one little thing that could bother me, but it really doesn't. I like it when the free cash flow (FCF) is always positive. But the one of Dialog isn't. Looking back the last 10 years, you will find two years with a negative FCF – 2007 and 2008. Furthermore, in 2007 Dialog had a net loss.
This doesn't really bother me, because since then net profit always increases and the FCF was always positive with two downs in 2012 and 2016.
Did I buy or not?
Well, I'm not buying very often and I find it increasingly difficult to make good investment decisions. Markets are very high right now after a bullish run since 2008. Dialog is not a no brainer. It has its problems as I mentioned above. Although figures are great, there was one thing why I hadn't bought until now – Dialog was much too expensive and traded way above its intrinsic value. But this changed since last year. Starting in November 2017, the stock price decreased from around $45 to around $20, a loss of more than 50%. This could be something, an investor's waiting for when he's watching a company.
The question was, was the stock cheap enough to be worth a buy. Well, to say it in advance, in my eyes, Dialog Semiconductor isn't a company to buy and forget. You have to look after it continuously. At least as they don't solve the problem with Apple. But it could be a buy for a value investor like Benjamin Graham, if the price is right. It isn't a company you have to fear becoming broke soon. More likely, it is a healthy company which should be able to get its problems under control.
When I thought about buying Dialog, the price was around $22, around $10 under my calculated intrinsic value. So price was right. I had a margin of safety which was high enough. That's why I bought. I will hold my position until intrinsic value is reached, maybe longer, if circumstances may change.
What I didn't expect
What I really didn't expect, was the jump of the stock price the day after my purchase. The stock price rose more than 12% when Q-1 was released. This was great, but beware. I didn't expect this, rather the opposite, even if not so high. The problem is that such an event could make you over confident. So, it's of absolute importance that you keep your feet on the ground and to make yourself clear that this jump was just luck and has nothing to do with your expertise or your experience.
This increase of the stock price also isn't a reason for selling immediately. It's a little step in the right direction, nothing more. But you want the price go even further. So, even if such an event happens, keep cool and your emotions under control. Stick to your strategy and always be aware of your humanity which means, you can make mistakes.
---
Disclaimer:
This blog post is not a financial advice and you should not make any stock purchases based on the experience mentioned above. My information is intended solely for the purpose of entertainment and does not constitute personal investment advice. I don't warrant that my ideas, information, strategies and tools and their application will enable you to earn money in any way, neither today, nor in the future. I assume no liability for investment decisions made on the basis of the information provided on this website. Each user decides and invests at his own responsibility and at his own risk.
I still hold stocks of Dialog Semiconductor.