The financial market is a place of emotions. Greed and fear mostly determine the actions of its participants. But acting on emotions is the worst you can do, if you want to invest successfully over the long run. So, the question is, how can you control your emotions?
We're all human. At least, I hope so. And being human means having emotions. That's quite good, because emotions make the life worth living. Without emotions, there would be no love, no beauty, no kindness, no anger, no sadness, no … . All kinds of our life are filled with nice and unpleasant emotions. While we enjoy the nice ones, the unpleasant emotions could go away right when they are coming. So, emotions are part of our life and they always will. But when you're investing, emotions could become an obstacle.

Controlling our emotions is one of the most difficult tasks we have to face. We can't just stop loving someone. Sometimes our love will last forever even though it isn't replied. Anger comes suddenly and it's such a strong emotion that the most aren't able to suppress it. Maybe we can handle it, instead of expressing it, but we always need some time to qualm down.
We have learned to live with our emotions and we are able to handle them (hopefully). This is an ability that is very helpful and we should use it whenever necessary. Especially when investing. The ability to control our emotions may help us making better and more successful investment decisions.
But how do we control our emotions?
Controlling our emotions is very difficult. At least for me. I really hate that I can't control them so many times. I would like to be better at it, but I fail too often. And that makes me angry. And there it is again – one of my emotions. So, just because they often come and go like they want to, I have to accept it. I can't suppress them. But what I can do is, to avoid getting into situations where I'm sure one of my emotions will occur and become the determining part of my decision. These are situations when the emotion often becomes a hindrance. Sure, avoiding won't work all of the times. But it works for me often enough. And it works for me when I'm investing.
What I do
The greatest obstacle to control or ignore my emotions is the noise of the market. What do I mean by that? Well, we're living in a century full of information. Everyday, we're getting hundreds of thousands of new informations we have to process. You can start your morning with the first news about the market and you can end it with the last. Newspaper, TV, Internet – every platform provides us not only with information, but also, and that's much more problematic, with opinions about the market.
Where does the market go? Will the Dow Jones increase or decrease? What's about the dollar, the yen, the renminbi, the euro? Why does the Apple stock go up? Why does it fall? Should you still invest in stocks or should you leave the market? Is it better to invest in ETFs? There are much more questions to be asked and answered. And you will find enough people who will do.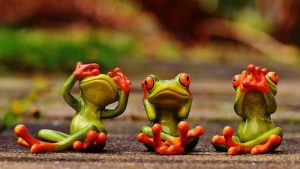 Although I'm reading the facts about a company, I'm not reading about or listening to the opinions about it. Opinions are irrelevant for me. I want to make my own conclusions. And that's only possible when my mind is blank like a white paper. If there is just one opinion of someone on it, my conclusions could be affected. But what's much more of importance, is the fact that an opinion could trigger an emotion. If someone's believing that the stock of a company would go up, I could get greedy and anxious about missing an opportunity. I start doubting my patience. I start doubting my own conclusions which are based on the facts I have researched. The same could happen when someone says the stock will go down. Fear could become my strongest emotion and that I have to avoid.
What else to ignore
So, I ignore opinions about companies and just listen to the facts. I also ignore the ups and downs of the market. I'm not looking at the indexes every day. I'm not looking at what the market does. And I'm not looking in my portfolio much too often. Why should I? I'm not interested in short term successes. I'm not bothered by short term losses. When I buy companies, I want to hold them for a long time. So, regarding the long period that I invest in companies, short term movements are irrelevant and therefore can be ignored.
I also ignore forecasts, because they are useless. I ignore charts, because they only tell you something about the past and the past emotions of the market participants, but nothing about the future and absolutely nothing about the conditions of the company. So ignoring the noise and only concentrating on the facts about a company helps me to keep my emotions under control.
One essential element to keep my emotions under control is risk management which means keeping risk as low as possible while increasing the return. Well, there are those who say that's not possible. Increasing the return needs an increase in risk. But that's not true when you're a value investor. Value investors do pretty much the opposite. They know that the less the risk, the higher their return. That's part of their strategy. Value investors reduce the risk by buying companies with a discount. They love to buy outstanding companies that way. They seek for more value than they have to pay for. The difference between both, price and intrinsic value, is their margin of safety.
The margin of safety is important in different ways. First it protects your investment against mistakes you made in your estimation about the company. Maybe the company doesn't develop as supposed. There are many reason why this could happen. Maybe your calculation of the intrinsic value was wrong and the company is worth less than thought. Maybe you oversaw something what should have been considered. The margin of safety is an insurance against your humanity, an insurance against the fact that you still could make mistakes.
How risk management helps to control your emotions
The margin of safety keeps the risk as low as possible because the market price tends to reflect the value of the company over the long run. This means that sooner or later, the market price will get closer to intrinsic value and often above. If you're patient, you can use this fact for your advantage.
This fact helps me keeping my emotions under control. Fear is not necessary if you know about what the market does over the long run. It is not necessary when you know your asset is worth much more than you paid for. The only thing that's necessary is patience. And you also don't have to be greedy. Being patient is not about making the fast money. It's about making a fortune over the long haul. And you know you will make this fortune. So, why should you be greedy? There is no need to.
The same applies to looking at the performance of your portfolio everyday. You're not investing to sell the next day. So, why should you look at the next days market price. It doesn't make sense. The price is only important when you want to buy and only in comparison to intrinsic value. The other times you can ignore it and leave your emotions in peace. When the price decreases, you would be sad. If it increases, you be happy or more. For your successful investments both are useless. So, don't bother yourself with them.
You decide if emotions running you wild
As I said at the beginning of this article, emotions are a part us. We can't suppress them and we can't ignore them permanently. We have to live with them and handle them. One way to deal with them is to avoid emotions whenever possible. To do it successfully, I try to create situations which helps me being emotionless. Why should I be anxious, when the situation doesn't scare me.
So, if you want to control your emotions, prepare yourself and create investment situations, where emotions doesn't appear. Or at least, where you're able to handle them the right way. It's not as difficult as it may seem. Implement a strategy before you start investing. Stick to that strategy whatever it took. Rethink it, if it's necessary, but only in quiet moments, when the markets are closed or you're not invested. Write your strategy down and have the paper  near you. Learn habits that help succeed over your emotions.
As Warren Buffett said: "If you can't control your emotions, you can't control your money."
---
If you want to learn more about controlling your emotions, join my
FREE online course
"The Secrets of Intelligent Investing"
Just sign in here:

You can also visit my Academy Bridge2Fortune®, where you will find more great courses about Intelligent Investing, for example about how and what to ignore when investing.